---
---
Khaliq Jordan's
for the week of April 20th-April 27th, 2018
---
FIRST HALF
---
1.
SLEEP – THE SCIENCES
Release date: April 20th, 2018
Label: Third Man Records
Digital, CD, Gatefold, Colored Vinyl
---
While the stoner metal giants Sleep did drop a new album out of seemingly nowhere without prior promotion, it should have been nothing short of expected that they would release such an album on 4/20- the international day of marijuana. However, if you're expecting Dopesmoker 2.0 you'd be mistaken. 
Vocalist/bassist Al Cisneros is in top form, this time around using his unique vocal style from his other band Om. It gives a neat new take on the Sleep sound, infusing the more meditative state of the aforementioned Om with a massive stoner/doom groove. Matt Pike pummels the listener with some of his best crushing riffs, while drummer Jason Roeder pounds through the distortion to get the rhythm through. Highlights for me include 'Marijuanaut's Theme' and 'Giza Butler', which showcase stoner metal at some of its very best. This is a mandatory listen for any stoner fan.
---
2.
TAD – QUICK AND DIRTY
Release date: April 21st, 2018
Label: MVD Audio
Colored Vinyl
---
Every time that it seemed like Tad was finally going to break into the grunge mainstream, something happened that prevented them doing so. On the other hand, they've kept a cult following at their core that still loves them and frontman Tad Doyle's many other bands to this day. The record-store day release of Quick and Dirty might not be a reunion, but it gives fans six unreleased songs that were recorded in 1999 soon before the band broke up, as well as some blistering live songs on side two from 1995.
The unreleased songs are fantastic, and showcase the band at their sludgiest and grungiest best. It almost sounds a bit like a throwback to the sound of 1990's Salt Lick EP, which I think is the greatest hidden gem of the grunge scene. For those not familiar with the band, imagine something along the lines of Black Sabbath jamming with Helmet. The opening triple threat of 'Mummified Cop', 'Let's Go for a Ride', and 'Corbomite Maneuver' display the crushing goodness at its best. Tad was a band known for their live performances, and you can really hear why on the live tracks. Tool Marks especially showcases just how monstrously heavy this band was, and you'd be hard-pressed to find a band that sounds this massive today. Any fans of grunge or sludge metal should do themselves a favor and listen to this.
---
 3.
CRUACHAN – NINE YEARS OF BLOOD
Release date: April 27th, 2018
Label: TrollZorn
CD
---
Since the departure of vocalist Karen Gilligan after 2006's The Morrigan's Call, Cruachan has gotten increasingly closer to their black metal roots, while still keeping their Irish folk sound intact. Nine Years of Blood finishes up the "Blood" trilogy that started with 2011's Blood on the Black Robe, and I think is the best of the bunch. Nine Years of Blood mixes the band's two sounds perfectly, delivering some great thrashings of melodic black metal hooks with the traditional Irish instrumentation and melodies. Vocalist Keith Fay switches between black metal rasping somewhat in the vein of bands like Absu with almost Celtic punk-esque clean vocals that really get the blood pumping, especially when blended with the choruses. 
There's not a weak song on here, but there's some particularly amazing songs that immediately got me hooked. 'Queen of War' is a mighty battle cry of epic proportions, 'Cath Na Brioscai' has some crushing thrash that gets the head banging immediately, and 'The Flight of the Earls' has a great pummeling groove. 'The Harp, the Lion, the Dragon, and the Sword' is just such a fun song. It blends classic Irish folk melodies that always make me smile with punchy hooks and descending swirls of black metal riffs, and the contrast works perfectly. The album closes out with a real bang with the soaring melody of 'Back Home in Derry'. Folk metal fans take note- some of Cruachan's best stuff is on this disc.
---
4.
ANTHRAX – KINGS AMONG SCOTLAND
Release date: April 27th, 2018
Label: Megaforce
CD
---
Recorded live in 2017, Anthrax displays once again why they are not only kings among Scotland, but kings among thrash with this double live album. As someone who's seen Anthrax live, this is a live album that really does the experience as much justice as possible without being there yourself. It's a great mix of mostly old school Anthrax favorites, with a handful of songs from the most recent two albums. The stage banter is great, and the energy is turned up to eleven. It would have been nice to hear some songs from Persistence of Time, but there's really not much else to complain about when it comes to live Anthrax.
---
5.
RIOT (V) – ARMOR OF LIGHT
Release date: April 27th, 2018
Label: Nuclear Blast
CD, Gatefold, Digipak
---
Heavy metal legends Riot return with another great album. With the blend of traditional 80's metal and power metal that they've had since 1988's Thundersteel, Armor of Light is the kind of album that makes you feel like a badass all the way through. Drummer Frank Gilchriest is constantly chugging with double bass a plenty, while the guitars blaze through with melodic yet biting shredding. Todd Hall's vocals are screaming amazing melodies, and catchy as hell choruses. The bass gets some time to shine too, with that awesome intro to 'Angel's Thunder, Devil's Reign'.
It's hard to find any weak moments, but 'Messiah', 'Burn the Daylight', 'Heart of a Lion', 'Caught in the Witches Eye' (especially), and 'Raining Fire' stand out just a bit as the highlights. Like Judas Priest, the new Riot album is making 2018 an excellent year for traditional heavy metal.
---
SECOND HALF
---
6.

DOKKEN – RETURN TO THE EAST LIVE
Release date: April 20th, 2018
Label: Frontiers
CD + DVD, Colored Vinyl, Gatefold
---
Fans rejoiced as the classic Dokken lineup reunited in 2016 for a concert and the recording of one new studio track. If it wasn't for band tensions, you would never guess this was a band that's been apart from one another for so long. With vocalist Don Dokken, guitarist George Lynch, bassist Jeff Pilson, and drummer Mick Brown all in top form and armed with an excellent selection of classic tunes, this is a reunion show at its best. There's a mix of popular hits like 'Unchain the Night' and 'Alone Again', as well as lesser known gems like 'When Heaven Comes Down' (which has always been a favorite of mine). The new studio track sounds just like the Dokken of yore, and shows that they still have the same great chemistry in the studio as they did thirty years ago. It remains to be seen if the classic Dokken will reunite for a full studio album, but in the meantime this live release does a good job for satisfying anyone patiently awaiting said news.
---
7.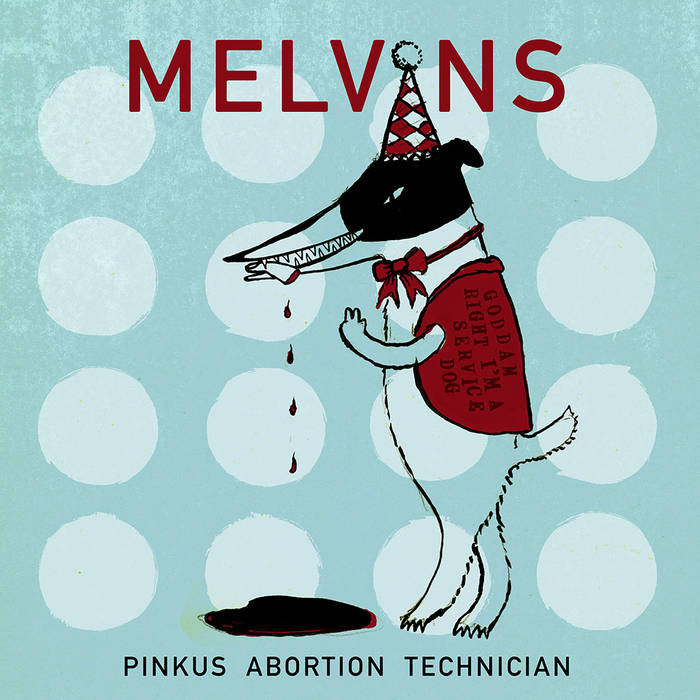 MELVINS – PINKUS ABORTION TECHNICIAN
Release date: April 20th, 2018
Label: Ipecac Recordings
CD, Digital
---
One can never be quite sure what Melvins are going to do, but when you add Jeff Pinkus of the Butthole Surfers to the equation, it just gets harder. If this was any other combo, it would be expected to be a mix of each band's sound. Pinkus Abortion Technician, whose title is an obvious homage to Butthole Surfers' Locust Abortion Technician, is a bit difficult to categorize. It's best described as a mix of stoner rock and alternative rock, which both bands have done, but not the first thing they're associated with. The closest to the usual Melvins sludge metal sound is at the end of 'Flamboyant Duck', which makes use of an excellent contrast between an acoustic blues twang with a sludgy metallic crunch.
If you're going in expecting a "Melvins meets Butthole Surfers" dichotomy you may be disappointed, but I think this is probably the band's best album since at least Tres Cabrones (2013) if not (A) Senile Animal (2006). It showcases the more stoned and laidback side of Melvins, and while it could have benefited from a little bit more sludge; songs like the bluesy 'Don't Forget to Breathe', the aforementioned 'Flamboyant Duck', and the cover of Butthole Surfers' 'Graveyard' rank among the best of the band's recent years and make this a great addition to the extensive Melvins library.
---
8.
Release date: April 27th, 2018
Label: Mighty
CD
---
Blitzkrieg is one of those New Wave of British Heavy Metal bands that is mostly known because Metallica did a cover of one of their songs, as well as one of the many that didn't manage to release an album until the tail-end of the scene's height. Despite that, the band kept on, and after a five year wait between albums, Judge Not! shows the band still going strong. Brian Ross's vocals have a bit of an operatic vibe to them, but he can also hit those high screams when needed. This is traditional heavy metal all the way in true New Wave fashion, with a bit of hard rock. 'Forever is a Long Time', Nosferatu-era Helstar-esque 'Reign of Fire', and 'Loud and Proud' stand out as the best. While 'Without You' is pretty cheesy, and the bass could be a bit more prominent in the mix, fans of the New Wave still shouldn't miss this.
---
9.
KOBRA AND THE LOTUS – PREVAIL II
Release date: April 27th, 2018
Label: Napalm
CD
---
I first got into Kobra and the Lotus when High Priestess was their newest album back in 2014, which was an amazing combo of traditional and power/thrash metal. Never would I have thought after that, and the awesome 2015 single that was 'Zombie', that these guys would soften their sound and lose the edge that made them unique in any sort of way. The only song that really stands out is 'You're Insane' which has some excellent soloing and some good hooks. It's the closest in sound to the Kobra and the Lotus of the 2012 self-titled and High Priestess. Unfortunately most of the album just leaves me bored. Not terrible, but not recommended.
---
10.
GODSMACK – WHEN LEGENDS RISE
Release date: April 27th, 2018
Label: BMG
CD, Digital
---
Want to hear what it would sound like if every generic 2000's alternative hard rock band added in slight electronic embellishments and the soulless, high pitched chants of Imagine Dragons? No? Well that's basically what Godsmack's When Legends Rise album sounds like. For someone like me, who's loved and listened to Godsmack almost my whole life, this is just depressing. They used to be one of the heaviest and most crushing bands that alternative metal had to offer, but this album only vaguely sounds like the signature Godsmack sound. The closest to good this album gets is 'Say My Name' and 'Eye of the Storm', which both open up with catchy riffs but soon suffer from the cheesy choruses and electronic background sound. With how over-produced and polished this album is, the metal riffs may as well not be there. Godsmack fans should stay clear from this album, unless the idea of them doing generic radio rock appeals to you.
---
The Weekly Metal Roundup is a weekly editorial that is released every Friday and written by Khaliq Jordan.
Read more Weekly Metal Roundups here: https://fryingpanmedia.com/category/weekly-metal-roundup/